National Cause
– St. Jude Children's Research Hospital®
Celebrating St. Jude Children's Research Hospital®
In 1983, St. Jude Children's Research Hospital was introduced to our members as the Woman's Life Insurance Society National Cause. This meant that members throughout the Society would combine their efforts to raise funds for this compelling cause.
Members making tribute & memorial donations at the 32nd National Convention in San Antonio, Texas to honor their friends and family along with members working together over the last 28 years in their local chapters, with the assistance of the Society's matching funds program, raised over $987,000 for St. Jude Children's Research Hospital. Even though Woman's Life concluded their fundraising efforts for St. Jude as their National Cause, many chapters continue to support this worthwhile organization.
Dedication of Members Recognized by St. Jude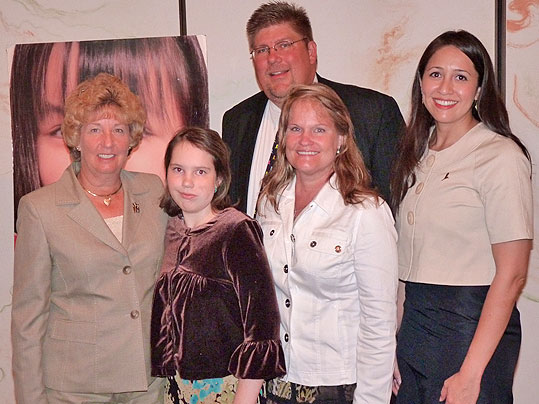 Nichole Aldape, a senior representative from the Houston, Texas office of St. Jude Children's Research Hospital and Alexis, a former St. Jude patient and cancer survivor were on hand at the National Convention to thank the membership for their support of St. Jude. Pictured from left to right: Woman's Life National President Janice Whipple; St. Jude cancer survivor Alexis; Alexis's mother, Ellen; Woman's Life National Secretary-Treasurer Chris Martin; and St. Jude Senior Representative Nichole Aldape.
"Hope" is a word that is clearly embraced by all associated with St. Jude Children's Research Hospital. There is new hope for each child entering into the care of this amazing facility. St. Jude is focused on hope; offering real hope and helpful resources for sick children and their families. Woman's Life is proud to support their mission of Hope.