National Cause
Answering the Call to Fight Homelessness and Hunger in America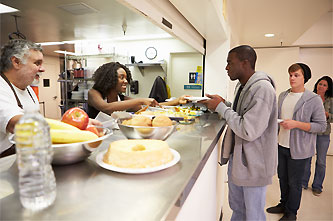 Beginning in 2011 Woman's Life Insurance Society and our chapters began to embrace our National Cause: Answering the Call to Fight Homelessness and Hunger in America. Woman's Life members across the country are continuing their efforts to address the needs of those experiencing homelessness and hunger through building awareness, volunteer service projects and fundraising activities. In three years Woman's Life chapters utilizing chapter support benefits have donated more than $359,000 in support of this effort. The majority of these donations directly benefit charitable organizations serving the needs of the homeless and hungry in the communities where our members live.
With historically high levels of unemployment, skyrocketing health care costs, and the ongoing housing crisis, one misfortune — a layoff, an injury, a mortgage default — can transform a person's life beyond recognition. Affecting people in urban and rural areas and in all 50 states, the issues of homelessness and hunger have touched the heart of America.
The time is now to be a part of the solution! Please join us in Answering the Call to Fight Homelessness and Hunger in America!
Community Shelter Board
The Spirit of Giving. The ladies of Woman's Life Chapter 818 Columbus, Ohio once again went above and beyond to exceed all expectations. The goal was to have some materials (scarfs, hats, gloves and some toiletries) for at least 30 blessing bags. Well, these ladies landed on the moon! A total of 72 bags were completed and donated to the Community Shelter Board, with a special touch from the ladies… Each bag had a hand written personalized note of encouragement. In addition to the 72 bags, several twin sheet sets were also donated. This story shows us not to underestimate these ladies' generosity!