National Cause
Answering the Call to Fight Homelessness and Hunger in America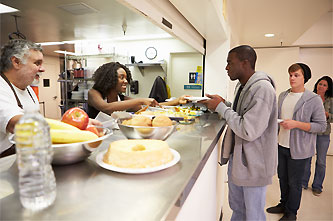 Beginning in 2011 Woman's Life Insurance Society and our chapters began to embrace our National Cause: Answering the Call to Fight Homelessness and Hunger in America. Woman's Life members across the country are continuing their efforts to address the needs of those experiencing homelessness and hunger through building awareness, volunteer service projects and fundraising activities. In three years Woman's Life chapters utilizing chapter support benefits have donated more than $359,000 in support of this effort. The majority of these donations directly benefit charitable organizations serving the needs of the homeless and hungry in the communities where our members live.
With historically high levels of unemployment, skyrocketing health care costs, and the ongoing housing crisis, one misfortune — a layoff, an injury, a mortgage default — can transform a person's life beyond recognition. Affecting people in urban and rural areas and in all 50 states, the issues of homelessness and hunger have touched the heart of America.
The time is now to be a part of the solution! Please join us in Answering the Call to Fight Homelessness and Hunger in America!
Van Buren Center
Members of Woman's Life Chapter 800 Columbus, OH celebrated National Volunteer Week together by volunteering at the Van Buren Center. Members put on their brand new chapter t-shirts, along with some classic aprons and hairnets and got busy serving dinner to the families and single women residing at the shelter. This group couldn't think of a better way to celebrate volunteerism than to answer the call to fight homelessness and hunger in their own community!