National Cause
Answering the Call to Fight Homelessness and Hunger in America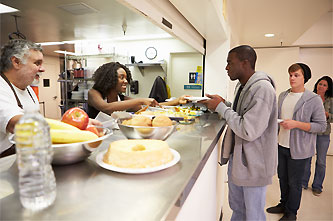 Beginning in 2011 Woman's Life Insurance Society® and our chapters have embraced our National Cause: Answering the Call to Fight Homelessness and Hunger in America.
Active members in Woman's Life chapters across the country continue their efforts to address the needs of those experiencing homelessness and hunger by building awareness, planning volunteer service projects, and holding fundraising activities.
Woman's Life chapters, utilizing our Chapter Financial Support programs, have contributed more than $1.6 Million in support of this effort. The majority of these contributions directly benefit charitable organizations serving the needs of the homeless and hungry in the communities where our members live.
With skyrocketing health care costs and rising costs of living, one misfortune — a layoff, an injury, a serious illness — can transform a person's life beyond recognition. Affecting families and individuals in urban and rural areas and in all 50 states, the issues of homelessness and hunger touch the heart of America.
The time is now to be a part of the solution! Please join us in Answering the Call to Fight Homelessness and Hunger in America!
Want to get involved? Check out these Ideas for Volunteerism & Donations
Empty Bowl Fundraiser
Supporting the Woman 's Life National Cause, Woman 's Life Chapter 836 Port Huron, Michigan members donated $1,295 to help feed the homeless and hungry in the area. Through volunteerism, a silent auction and cash raffle at the Empty Bowl Fundraiser, members raised a substantial amount for local non-profit Mid-City Nutrition. "We all live in the area and are aware of the challenges of homelessness and poverty. We have fun working on projects that make a positive difference for people in our community," said chapter member Marcy. Members of Chapter 836 have participated in the Empty Bowl benefit since 2011. Pictured are members Deb, Susan, Tracey, Marcy, Nadine and Kim!