Media Center
Woman's Life Magazine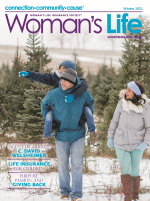 Woman's Life, an award-winning quarterly membership magazine, is provided to each member. The magazine highlights our members who are having fun while helping others and offers educational and inspirational articles promoting connections, community and causes important to women.
Subscribe to get a free one-year subscription to Woman's Life Magazine
Current Issue
– Woman's Life Magazine
Archive
– Woman's Life Magazine
Woman's Life Annual Report
Woman's Life in the News!
Home Office in Action!
Congratulations!
Congratulations to Vickie as she celebrates 5 years of service with Woman's Life! As the Director of Member Service, she oversees the New Business, Member Service and Claims divisions. Vickie enjoys coaching and empowering her team, serving others, and giving back to the community. Thank you, Vickie, for your commitment to Woman's Life, your team, and our members.
Celebrating 25 Years!
Join us as we celebrate Kris and his 25 years of service with Woman's Life! As a Programmer / Analyst, Kris helps ensure our policy administration and other systems run smoothly. Congratulations Kris and thank you for your continued dedication to helping serve Woman's Life members!
Employee Milestone
Congratulations to Jeff as he celebrates 25 years of service with Woman's Life! As a Programming / Operations Specialist, Jeff manages daily and special policy processing. Thank you, Jeff, for your ongoing commitment to supporting Woman 's Life and our members!
Laws & Articles of Incorporation
Woman's Life Insurance Society's Laws and Articles of Incorporation are available for download in PDF format: