Product Spotlight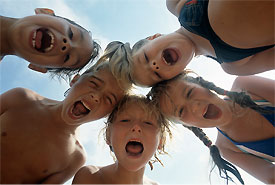 Intuitions® Whole Life & Intuitions® 20 Pay Whole Life
Life Insurance is important for the little ones too!
Purpose: To invest in your children's future and provide lifelong insurance protection at an affordable premium, coupled with guaranteed cash value accumulation.
Both Intuitions® Whole Life Insurance and Intuitions® 20 Year Payment Whole Life Insurance offer affordable, straight-forward life insurance protection with fixed-level premiums, guaranteed cash value growth and a guaranteed death benefit… all of which make it easier for you to budget today and plan for your children's future. Lock in premiums while they are young and healthy.
The examples below show monthly premiums1 for a male and female age five to purchase a $25,000 death benefit with Guaranteed Insurability Rider (GIO)2 for $25,000. Buy the Intuitions Whole Life and pay low monthly premiums that are locked in for the life of the policy or buy the Intuitions 20 Pay Whole Life policy and pay premiums only for 20 years to have a paid up policy! Whichever plan you choose, the premiums are affordable.
| Monthly Premiums | Female Age 5 | Male Age 5 |
| --- | --- | --- |
| Intuitions® Whole Life | $10.99 | $12.22 |
| Intuitions® 20 Pay Whole Life | $18.66 | $20.85 |
Provide a legacy for your loved ones. Give the gift of life insurance to your children or grandchildren. Ensure the security of their financial future by acting now!
Trust your intuition. Trust Woman's Life.®
For more information, request a free, no obligation needs analysis with a Woman's Life representative.
Product Spotlight Archive
---
1 Premiums based upon standard nontobacco rates and are subject to underwriting. During the first two policy years, the Society may contest the policy for material misrepresentation in the application.
2 Guaranteed Insurability Option Rider (GIO) will allow the purchase of additional coverage up to the option amount without evidence of insurability at specified ages (25, 28, 31, 34, 37, and 40) or alternative option events during the insured's lifetime.
Products and riders not available in all states.
M04-2700 WL / M11-330020PL