Product Spotlight
Create a Legacy of Love for Your Family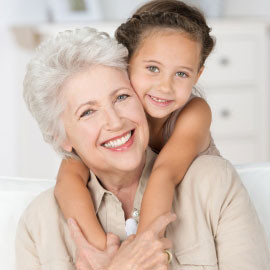 Create a foundation for a secure financial future for your grandchildren with a gift of lifelong life insurance protection and guaranteed cash value accumulation at an affordable, locked-in premium.
Starting when they're young can help them enjoy:
Lower premium rates locked in,
Accumulating cash value for their future use1,
Life insurance protection as they grow into adulthood,
A birthday card from you each year as long as the certificate is in force,
A Scholarship Opportunity2 as part of their Benefits of Membership3.
Both Intuitions® Whole Life Insurance and Intuitions® 20 Year Payment Whole Life Insurance offer affordable, straight-forward life insurance protection with fixed-level premiums, guaranteed cash value growth, and a guaranteed death benefit… all of which make it easier for you to budget today and plan for your grandchildren's future.
The examples shown here reflect monthly premiums4 for a male and female age five for a $25,000 death benefit with our Guaranteed Insurability Rider (GIO)5 for $25,000. Select Intuitions Whole Life Insurance and pay low monthly premiums that are locked in for the life of the insured. Or choose Intuitions 20 Year Payment Whole Life Insurance and have fully paid-up coverage after just 20 years of premium payments.
| Monthly Premiums | Female Age 5 | Male Age 5 |
| --- | --- | --- |
| Intuitions® Whole Life | $16.09 | $17.10 |
| Intuitions® 20 Pay Whole Life | $23.95 | $25.865 |
The gift of permanent life insurance is a legacy of love from you that provides a solid foundation for them...today and into the future.
Trust your intuition. Trust Woman's Life.®
For more information including costs and complete details, click, here and request your free, no obligation consultation with a Woman's Life representative.
---
1 Certificate loans will reduce certificate values and death benefit. Certificate loans are subject to an 8% per annum interest charge, which if not paid is added to the loan debt. The certificate will terminate if the loan debt equals or exceeds the cash value.
2 Eligibility for fraternal benefits of membership is determined by the board of directors. Fraternal benefits may be amended or discontinued at any time by action of the board of directors.
3 Each scholarship applicant must be a Junior or Benefit Member of Woman's Life Insurance Society with life insurance protection in force for at least two years prior to the May 1st application deadline.
4 Premiums based upon standard nontobacco rates and are subject to underwriting. During the first two policy years, the Society may contest the policy for material misrepresentation in the application.
5 Guaranteed Insurability Option Rider (GIO) allows the purchase of additional coverage up to the option amount without evidence of insurability at specified ages (25, 28, 31, 34, 37, and 40) or alternative options at the insured's marriage, and birth or adoption of a child. Available at issue ages 0-37.
Products and riders not available in all states.
ICC18M18-3500 WL